Player: Gregory Solhaug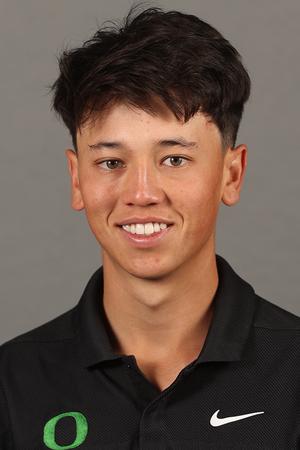 Hometown:
Stavern
University:
University of Oregon
Graduation Year:
2024
Area of Study:
Business
JUNIOR (2022-23)
All-Pac-12 Honorable Mention
Third on the team with a 71.65 stroke average ... Had seven top-20 finishes, including five in the spring ... Oregon counted 28 of his 34 rounds ... Had 18 rounds of par or better ... Third on the team with 110 birdies ... Impressive finish at the Ben Hogan Invitational where he tied for 15th at 1-under (70-71-68-209) ... That tournament began a string of five straight top-20 finishes ... Tied for 13th at the Cal Poly Invitational (68-72-74-214/2-under) ... Tied for 19th at the Southwestern Invitational (70-70-78-218/2-over) ... Tied for 12th at both the Bandon Dunes Championship (75-71-146/2-over) and the Duck Invitational (71-73-74-218/5-over) as Oregon won both tournaments ... Best tournament of the season was the Western Intercollegiate, where he shot a career low 64 in the opening round and tied for sixth overall (64-75-69-208/3-under) as the Ducks finished second ... The 208 was also his three-round tournament low ... Helped Oregon advance to the NCAA Championships by tying for 11th at the NCAA Bath Regional (70-68-71-209/4-under) ... Advanced to the round of 32 at the British Amateur ... In the summer, qualified for the 2023 U.S. Amateur Championship and advanced to the round of 32 ... Named a CGAA All-America Scholar.