Player: Chaz Aurilia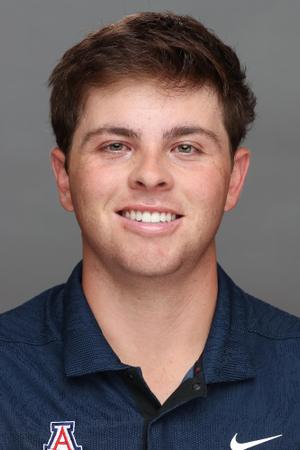 Hometown:
Phoenix
University:
Southern Methodist University
Graduation Year:
2024
Area of Study:
Liberal Studies
Soldier Honored:
Christopher (C.J.) Lapka
Senior (2022-23): Appeared in all 12 of Arizona's tournaments with third lowest scoring average (71.71) on the team… Best performance of career came in Arizona Thunderbirds Intercollegiate where he was Cats' best counting player in a tie for third at 12-under par… His 54-hole score of 204 in third-place showing at Arizona Thunderbirds Collegiate was best tournament score of his career… Carded lowest round of career on opening day of Maui Jim Intercollegiate in Scottsdale with a 65… Tallied 17 rounds of par or lower in 35 rounds played on the season… Part of the Wildcats' lineup in their win at the Arizona NIT at Omni Tucson National, giving the program its first win at the event since 2003.

Junior (2021-22): Played in six tournaments in his second season with the program, playing his best golf at the end of the season as part of the lineup at NCAA Bryan Regional and NCAA Championships… Shot season-best 69 in first round of NCAA Championships as one of only 12 players to break par on the first day… Best finish of year came with top-30 showing at NCAA Regionals as Arizona won its first NCAA Regional Championship in 15 years… Best 54-hole score of season was 216 (Even) at Arizona NIT, which was second best mark of his collegiate career.

Sophomore (2020-21): Participated in three events in his first season eligible for the Wildcats… Shot 69 twice and 68 twice for his lowest rounds of the season… Best event was the Arizona NIT when he opened with a 68 in the first round and a 69 in second round to finish in top 30 of the event… His 2-under final score of 214 at Arizona NIT was season low… Stroke average for the season was 72.33, which was fifth best on the team.

Freshman (2019-20): Did not compete for the Wildcats.

Prior to Arizona: Won 2019 AGA Thunderbird Invitational by five strokes after posting a final round score of 64… Two-time Arizona All-State selection during prep career at Arcadia High School while helping guide Arcadia to a pair of state titles…. Posted a pair of second-place finishes at 2017 Antigua National Invitational and Dobson Invitational… Originally attended UCLA before transferring to Arizona in 2019.