Player: Hunter Swanson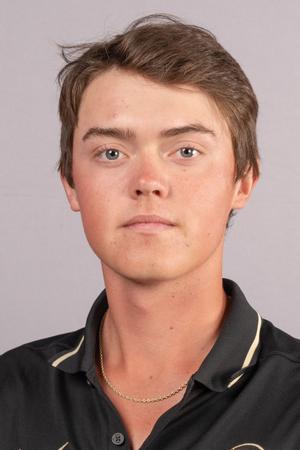 Hometown:
Denver CO
University:
University of Colorado
Graduation Year:
2026
Area of Study:
Business
College—2023-24 (Soph.): In the first event of the season, he set a school record with 42 consecutive holes of par or better when he did so between the first and third rounds of the Maui Jim Individual.

2022-23 (Fr.): One of four finalists for CU's Freshman Male Athlete of the Year ... Played in 13 of 14 tournaments (12 stroke, one match play),
With a 72.48 stroke average for the season, fourth on the team (and fifth-best by a Pac-12 freshman; 39th overall); it was also the second-best by a frosh in CU history (first is 70.91) ... Led the team in the NCAA Norman Regional (69-72-69—210, -6), tying for 11th, the highest finish by a CU freshman in a regional and the best gross score and score in relation to par by a CU frosh in the postseason … The 6-under par effort was the first subpar score by a Buff rookie and bested Ekjord's previous low tally of 1-over 217 ... He tied for 20th in the Pac-12 Championship (70-67-72-71—280, E), the third highest finish by a CU freshman in the event (and the second-best score in relation to par); he tied for fourth among the 19 freshmen who competed in the Pac-12's ... He played in six fall tournaments, five of the team's six as a scorer and one as an individual when the Buffs didn't field a team ... His 72.06 stroke average for the fall season was the fourth-best ever by a Buff freshman ... He opened his career with a 1-over 71 in the Notre Dame Fighting Irish Classic, tied for the sixth-best gross score in a first collegiate round by a Buffalo ... He went on to tie for 32nd in that first collegiate tournament (211, +1), the second-best gross score in a first meet by a Buff ... Owned a 71.7 average for first round scoring, 72.2 for middle rounds and 73.7 for final rounds ... Twenty of 22 spring scores were between 67 and 75 (others: 77, 78) ... Tied for the most pars (39) in a 54-hole tournament when he scored that many at BYU (16 in the third round) ... In 40 rounds (720 holes), he had just 22 worse than bogey (all doubles); that was a par or better percent of 78.3 (fourth on the team) ... Had a 2-1 record in Wyoming's Match Play event to open the spring.