Player: Riley Lewis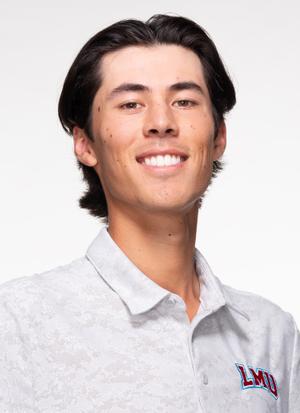 Hometown:
Prescott
University:
Loyola Marymount University
Graduation Year:
2024
Area of Study:
Information Systems and Business Analytics
HIGHLIGHTS AT LMU...
IN 2022-23 • JUNIOR… Became the first individual to advance to the NCAA Championships after winning a playoff in the NCAA Regional Round in Morgan Hill… Competed in all 14 events and led the team with a 71.48 stroke average, the sixth-best individual average in program history… Recorded 25 of his 42 rounds at or below par… Opened the season with a 3-under, 69-69-72—210 to tie for sixth at the USF Intercollegiate (Sept. 12-13, 2022)… Shot 2-under, 72-72-70—214 at the Trinity Forest Invitational (Oct. 2-4, 2022) to tie for 20th… Tied for 19th at the Wolf Pack Classic (Oct. 10-11, 2022) with his 4-under, 69-74-69—212… Earned his first top-4 finish of the season at the Saint Mary's Invitational (Oct. 31-Nov. 2, 2022) with his 1-under, 65-75-72—212… Tied for fifth at The Prestige (Feb. 20-22, 2023) after shooting 2-under, 69-72-70—211… Shot 3-under, 68-74-71—213 to tie for 12th at the El Macero Classic (Apr. 14-16, 2023)… Tied for first at the 2023 West Coast Conference Championships (Apr. 27-29, 2023) with a 9-under, 70-69-68—207 before playing in a one hole playoff… Forced a three hole playoff to advance as the top individual out of the NCAA Morgan Hole Regional (May 15-17, 2023) after shooting 4-under, 71-72-69—212 and tying for second overall after recording birdies on the final two holes… Shot 80-74-74—228 in his first NCAA Championships (May 26-28, 2023) at Grayhawk Golf Club in Scottsdale, Ariz… WCC Golf Preseason Team… WCC Player of the Month for April 2023… WCC All-Conference Team Selection… WCC All-Academic Team Selection… CSC Academic All-District Team Selection.