Player: Damon Vilkauskas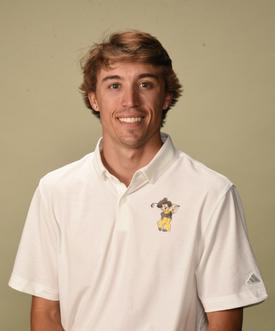 Hometown:
Mesa
University:
University of Wyoming
Graduation Year:
2025
Area of Study:
Bachelor of General Studies
Damon Vilkauskas comes to Wyoming after earning First Team NJCAA Division II All-America honors at South Mountain Community College in Phoenix, Ariz. In the 2022-23 season, Vilkauskas was named to both the NJCAA Division II First Team All-America team and the PING First Team All-America team as selected by the Golf Coaches Association of America (GCAA). He was also a GCAA PING All-West Region selection and was named the Arizona Community College Athletic Conference Player of the Year. Vilkauskas was the No. 1 ranked junior college golfer in the nation in NJCAA Division II in 2023. He finished second at the 2023 National Championships. Vilkauskas won four spring tournament titles as an individual and placed in the Top 5 in seven events, with a 69.55 scoring average for the season.

Vilkauskas began his college career at South Mountain C.C. in the 2020-21 season, earning Honorable Mention All-America honors on both the 2021 NJCAA team and the GCAA PING team. He transferred to UTEP for the 2021-22 season, playing at the NCAA Division I level for the Miners. Vilkauskas returned to South Mountain C.C. for the 2022-23 season. He has one year of college eligibility remaining. He graduated with a 4.0 grade-point average, earned President's Honor Roll and was a Gold Cord recipient, graduating with highest distinction.