Fallen Soldier: Julian Sanchez Melo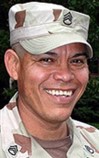 Dates:
Died December 21, 2004
Hometown:
Brooklyn, New York
Branch of Service:
Army
Rank:
Staff Sergeant
Player:
Julie Huggins
Army Staff Sgt. Julian S. Melo, 47, of Brooklyn, New York, was assigned to 1st Battalion, 5th Infantry Regiment, 1st Brigade, 25th Infantry Division (Stryker Brigade Combat Team), Fort Lewis, Washington. While serving during Operation Iraqi Freedom on December 21st, 2004, he was killed when his base dining facility was attacked in Mosul, Iraq.

Born and raised in Panama, Staff Sgt. Melo served in the Panamanian Army. He resigned from the Panamanian Army and emigrated to New York in the late 1980s. It was only natural for him to join the U.S. Army. As a supply specialist, he served for a total of 12 years and served several tours in South Korea. Those close to Julian recalled how he fell in love with his adopted country, especially New York City and said he was always in New York even when was physically elsewhere. He loved what the city stood for and visited the Statue of Liberty every chance he got.

Staff Sgt. Melo's family described him as a "soldier first" but also as a loving husband, brother, and friend to many, including his wife of 10 years, Norma, and their son Joshua. Said Norma: "He was full of life, full of joy. I am blessed to have had him in my life."