Fallen Soldier: Christopher D. Strickland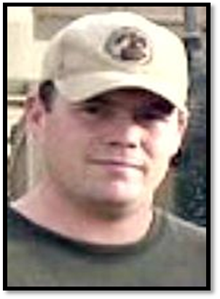 Dates:
Died June 25, 2008
Hometown:
LaBelle, Florida
Branch of Service:
Marine Corps
Rank:
Staff Sergeant
Player:
Mika Jin
U.S. Marine Corps Staff Sergeant Christopher D. Strickland, born July 7, 1982, in LaBelle, Florida, died June 25, 2008 in a roadside bombing in the Helmand province of Afghanistan. He was an ordnance disposal technician assigned to the 1st Marine Logistics Group, I Marine Expeditionary Force at Camp Pendleton in California serving during Operation ENDURING FREEDOM. It was his fifth tour of duty.

It was always SSgt Strickland's dream as a young man to serve his country. He signed commitment papers as a high school junior, seeing it as a way he could experience the world. He graduated from LaBelle High School in 2000, where he participated in wrestling, football and marching band.

SSgt Strickland was awarded the Purple Heart, Navy/Marine Corps Commendation ribbon, Combat Action Ribbon, as well as several others, for his service and sacrifice. He was laid to rest in Arlington National Cemetery on July 11, 2008.

"Chris loved his job, but he loved his family more," his wife, Carrie said. "His son was a treasure to him. Even when he was deployed, he tried to always call and talk to us. He made tape recordings and videos of himself reading their favorite stories. Chris always cared about his family and even tried to pay for his mom to come and visit when we couldn't go visit her. He was a kind and caring son, husband and father."

SSgt Strickland's son is a Folds of Honor Scholarship recipient.