Fallen Soldier: Tyler B. Swisher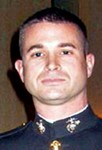 Dates:
Died October 21, 2005
Hometown:
Cincinnati, Ohio
Branch of Service:
Marine Corps
Rank:
Captain
Player:
Natalie Vo
Marine Corps Capt. Tyler B. Swisher, 35, of Cincinnati, Ohio was assigned to the 2nd Battalion, 2nd Marine Regiment, 2nd Marine Division, II Marine Expeditionary Force, Camp Lejeune, N.C. He was killed October 21, 2005, in Al Anbar Province, Iraq by the explosion of a roadside bomb that threw him from his vehicle into a canal, where his remains were eventually recovered as fighting continued in the area.

Capt. Swisher had a learning disability who spent hours on his studies and made the honor roll his senior year at Mariemont High School in Cincinnati. He went on to earn a biology degree from Butler University in Indianapolis before enlisting.

Capt. Swisher decided to enlist in the Marines in 1993, training daily for six months just to make sure he was ready for boot camp while working construction, running miles each day, and climbing a 20-foot rope to gain strength. Capt. Swisher worked his way up to officer's commission in 1997. He was a on his third tour to Iraq.
He craved challenges that others shunned. His arduous training in Korea for mountain warfare involved climbing steep, rocky slopes and living outdoors in the harsh elements. "It was miserable," recalled his fellow Marine and close friend, Captain Gary McCullar. "He loved it."

He is survived by his wife Stephanie, daughters Ashleigh and Madison, and a son, Jacob.