Player: Natalie Vo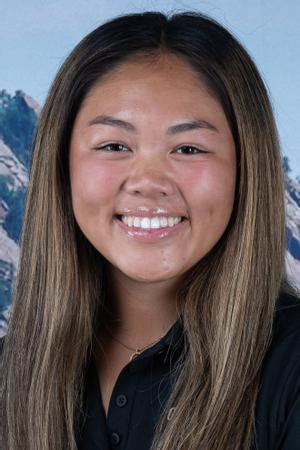 Hometown:
San Jose
University:
University of Colorado
Graduation Year:
2025
Area of Study:
Psychology
Soldier Honored:
Tyler B. Swisher
2021-22 (Fr.): Played in 32 rounds as a true freshman with a 76.28 stroke average ... Was Colorado's top performer at the Icon Invitational in Houston, tying for 36th with a 4-over, 220 .. Shot her second of two sub-70 rounds at ICON with a 3-under, 69, in the first round ... Also shot a 69 in the second round of the fall season Pac-12 Preview, this one coming in at 4-under on the par 73 course in Kailua Kona, Hawai'i ... Recorded a season-low 54-hole score of 219 at the Illini Invitational in October, tying for 42nd overall ... Her top finish was tying for 23rd at the season-opening Branch Law/Dick McGuire Invite, with a 6-over, 223 ... Placed 47th at the 2022 Pac-12 Championship.

Outside CU: Earned co-medalist honors at the 2022 U.S. Girls' Junior Championship at the Cllub at Olde Stone in Bowling Green, Ky. ... Shared the 36-hole lead with Japan's Saki Baba, both at 7-under, 139 ... Shot 5-under, 68 in the second round advancing to the round of 64 in match play.

High School: Named to the First Team West Bay Athletic League (WBAL) three times and the second team once … won the individual Central Coast Section title while Harker won the team title in 2021 … her team also won the WBAL team championship three times (2018, '19 and '21) … won medalists honors at the 2019 U.S. Women's Amatuer Qualifier at Sierra View CC, carding a 66 … qualified for the 2019 and 2021 U.S. Girls Junior Championship … tied for second at the 2019 NCGA Jr. Championship at Greenhills CC (82-80-77—239) … placed 6th at the 2020 West Coast Women's Amateur at Bayonet and Blackhorse GC (73-78-74—225) … tied for ninth at the 2020 California Women's Championship at Ojai Valley Resort (74-72-73—219) … home course is Silver Creek Valley CC.

Best Career Round in Competition: 66 (7-under) 2019; U.S. Women's Amateur Qualifier, Sierra View Country Club.