Fallen Soldier: Clarence D. McSwain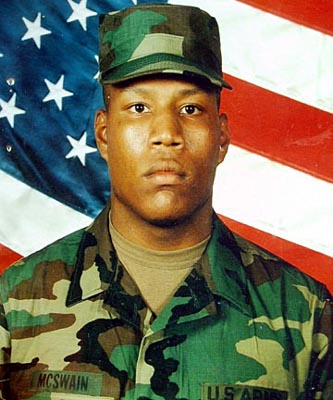 Dates:
Died June 8, 2006
Hometown:
Meridian, Mississippi
Branch of Service:
Army
Rank:
Master Sergeant First Class
Player:
Hailey Schalk
Army Sgt. 1st Class Clarence Douglas McSwain, 31, of Meridian, Mississippi, was stationed at Fort Campbell, Kentucky, where he was assigned to the 2nd Battalion, 502nd Infantry Regiment, 2nd Brigade Combat Team, 101st Airborne Division (Air Assault). He died on June 8th, 2006, while leading a platoon to secure an area near where Abu Musab-Zarqawi was killed days earlier; he was killed when an improvised explosive device detonated near his convoy vehicle during combat operations.

McSwain graduated from Meridian High School, where he excelled academically and athletically, as a football player and an honor student. After graduation in 1993, he went on to major in English at the University of Southern Mississippi. At the time of his death, he was on his fifth overseas deployment.

Clarence was his brother's hero; he remembered him as a great, strong, and courageous person and leader, as well as a great father to his three children. Clarence was deployed to Iraq nine months before his passing, but came home in January to meet his newborn son. In addition to his children, his survivors include his wife, Kendrah, two brothers and two sisters.