Player: Hailey Schalk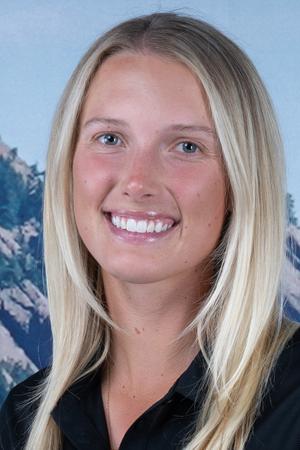 Hometown:
Erie, CO
University:
University of Colorado
Graduation Year:
2024
Area of Study:
Communication
Soldier Honored:
Clarence D. McSwain
2020-21 & 2021-22 Pac-12 Academic Honor Roll

2021-22 (So.): Led Colorado in overall rounds played (35), stroke average at 74.71 and score in relation to par average at +2.71 ... Lowered her stroke average slightly to 74.0 over 21 spring rounds ... Was Colorado's top golfer in the final five tournaments of the season ... Recorded four top 20 finishes, all coming in the final four tournaments of the spring ... Tied for 15th with a 3-over, 219, at the Briar's Creek Invitational for her first career top 20 finish ... Took the momentum from Briar's Creek into the PING/ASU Invitational where she had a career-best 54-hole score of 216, tying for 19th place overall ... She duplicated that 54-hole score at the Chevron Silverado Showdown, finishing in ninth place overall ... Tied for 13th at the Pac-12 Championship at 5-over, 221 ... Shot 2-over, 74 or lower in her final 12 rounds ... Had a team-best 87 birdies and 378 pars.

2020-21 (Fr.): Played in six spring events, including one as an individual (no fall season due to Covid-19) ... made her debut for the Buffs at the Lamkin Invitational … tied for 27th and carded rounds of 78-77-77 … all 15 of her rounds during the season were in the 70s … averaged a 76.67 stroke average through 18 rounds.

Outside CU: Tied for third place at the 2022 Colorado Golf Association Women's Stroke Play Championship at the Colorado National Golf Club ... Shot a 2-under, 214 finishing just two strokes outside the top spot ... tied for 10th at the 2021 Colorado Open with a 3-under 213 (72-70-71) … had the lowest amateur score in the field … placed third at the 2021 CGA Women's Stroke Play Championship, carding a 218 (72-74-72) … qualified for the 2021 U.S. Women's Amateur, tying teammate Issy Simpson for second (70) at the USGA Qualifier at Walnut Creek Golf Preserve in Westminster, Colo. ... With the 2020 collegiate fall season canceled due to Covid-19, competed in several local tournaments ... teamed up with fellow Buff Alisha Lau and won the USGA 4-ball qualifier with a 4-under 68 on Sept. 21 ... earned medalist honors at the Colorado National Women's Amateur, Oct. 3-4, by three strokes with a 3-under 141 ... recorded a 2-over 74 in the first round at Colorado National Golf Club in Erie, Colo., but came back the next day with a 5-under 67 to clinch the win … in November she competed at the Apache Creek event in Arizona by The Cactus Tour … was the highest finishing amateur in the field … placed fifth after carding an 8-under 208 (71-68-69).