Player: Jack Townsend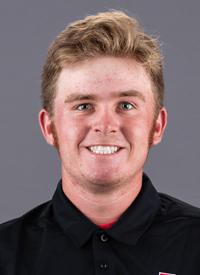 Hometown:
San Diego
University:
SDSU
Graduation Year:
2024
Area of Study:
Communication
Honors
* Mountain West Men's Golf Freshman of the Week (March 10)

Career Collegiate Low 18: 69 (three times)
Career Collegiate Low 54: 210 (Sept. 20-21, 2021 & March 7-8, 2022)

2021-22 (As A Freshman)
Has a 73.67 scoring average … Has competed in six tournaments on the season, including three in the Aztec starting 5 … Has five rounds below par, three in the 60s and three even-par rounds … Owns a low round of 69 and a low tournament of 210.
Spring: Has competed in two tournaments in the spring with one start ... Has the lowest spring average (72.33) on the team ... Tied for ninth at the Lamkin Grips San Diego Classic (March 7-8) at 6-under 210 ... Was the team's top finisher while competing as an individual ... Was named the Mountain West Men's Golf Freshman of the Week for his efforts ... Started for the Aztecs at the Arizona N.I.T. from March 18-19, tying for 80th at 10-over 226.
Fall: Played in four tournaments in the fall, including twice in the starting lineup … Owned a 74.33 scoring average … Had three rounds below par, one in the 60s and one even-par round … Made his collegiate debut with an 89th-place finish while competing as an individual at the Maui Jim Intercollegiate on Sept. 10-12 … Followed up a 12-over 82 with an even-par 70 and a 74 … Tied for fourth at the Husky Individual Invitational (Sept. 20-21) with three under-par rounds (69, 71 and 70) for a 6-under 210 … Made the starting lineup for the first time at the Colonial Collegiate Invitational from Oct. 4-5, tying for 54th at 12-over 222 … Came in 31st (out of 36) at the Jackson T. Stephens Cup from Oct. 18-20 … Then defeated Tyler Lipscomb, 6&4, to help the Aztecs to a 3-2 victory in match play at the JTS to secure fifth place.