Player: Nicole Neale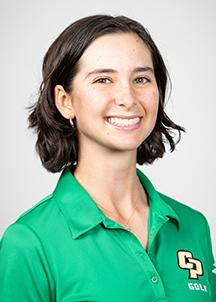 Hometown:
Trabuco Canyon
University:
California Polytechnic State University (Cal Poly)
Graduation Year:
2024
Area of Study:
Business Administration
Soldier Honored:
Douglas M. Vose III
2021-22 -- Competed in five tournaments as a sophomore -- four in the fall and one in early February of the spring schedule ... averaged 75.3 strokes per round ... notched a pair of 69s en route to second-place tie in Ron Moore Intercollegiate, posting a career-best 212 total ... her other top-20 finish was a tie for 15th place in Ptarmigan Classic ... enters third year with the program with a 75.69 scoring average over 39 rounds ... named to Big West All-Academic Team.

2020-21 -- As a true freshman, played all 24 rounds in eight tournaments during spring season ... averaged 75.9 strokes with five top-20 finishes and six rounds of par or better ... best round was 70, accomplished four times ... top finish was second place in season -opening Valley Invitational with rounds of 74, 74 and 76 at the Bakersfield Country Club ... also placed 12th in Big West Conference Championship, 15th in The Gold Rush, 18th in Juli Inkster at Meadow Club and 19th at Bruin-Wave Invitational.

Tesoro High School -- Neale was her team's low stroke average leader all four years and twice was a team captain ... Sea View League MVP as a senior and earned first-team All-Sea View League honors as a junior and first-team All-South Coast League accolades as a freshman and sophomore ... twice claimed league champion honors, finishing both years with a four-under-par round on the final 18 holes ... a two-time member of San Diego in the Girls Junior Americas Cup with a 14th-place finish in 2019 ... also was a member of Team USA in the 2017 Harmony Cup in China ... finished tied for fifth place in the 2019 SoCal Junior Amateur Championship at Morongo and earned three top-3 finishes in Toyota tour cup events, including a third at the end-of-the-year invitational at Sandpiper in 2018 ... compiled five top-10 finishes in the American Junior Golf Association.

Personal -- Daughter of Garth and Marianne Neale ... both attended college in South Africa ... one brother, Gordon, who played golf at Florida and is pursuing a professional golf career on the All Pro Tour ... hobbies include swimming, going to the beach, watching shows, cooking/baking and spending time with family and friends ... born in Newport Beach, Calif. ... majoring in business administration.