Player: Jaden Cantafio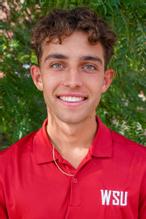 Hometown:
Orange
University:
Washington State University
Graduation Year:
2024
Area of Study:
Sports Management
2021-22 | Sophomore
Played in all 10 tournaments as a sophomore … Finished second on the team in scoring average at 72.10, which is the fourth-best scoring average in program history … Played in a team-high 31 rounds, and counted his score in a team-best 30 rounds … Set the school record for Par-3 Scoring at 3.0597 … Finished the season scoring 4.6132 in Par-5 Scoring, which is third-best in program history … Helped the 2021-22 WSU team set the school record for team scoring average at 288.17 … Posted a personal-best 54-hole score of 209 (-4) at the Visit Stockton Invitational to finish tied for 21st … Carded a career-best 65 (-6) in the second round of the Visit Stockton Invitational, which is tied for the seventh-best single-round score in program history, while it is tied for the 11th-best single-round vs. par score in WSU history … Shot under-par in 10 rounds … Posted four top-25 finishes and two top-15 finishes … Collected his best finish of the year at the Bandon Dunes Championship, where he finished tied for 11th after carding 217 (+4) … Posted a three-round under-par score at both the John Burns Intercollegiate (215; -1) and The Goodwin (209; -1) … Helped the Cougars post their lowest 54-hole team total in program history at the Visit Stockton Invitational by carding 816 (-36) … Finished the 2022 Pac-12 Men's Golf Championship tied for 28th.

2020-21 | Freshman
Played in five tournaments during his true freshman season … Held a 74.50 stroke average through 16 rounds … Had his score count in 13 of the 16 rounds he competed for the Cougs … Posted his best finish of the year in his season-debut tournament at The Joust, where he finished in a tie for 16th … Recorded his best three-round tournament score of the season at The Goodwin, carding 217 (+7) … Carded par-or-better in two rounds … Posted his best round of the season at The Goodwin, where he carded one-under par; 71 in the second round.
Prior to Washington State

High School
A native of Tustin Calif., attended Mater Dei for his first three years and is finishing his high school career at Tesla Academy ... Placed first in both the Palmetto Tournament and the Ayala Spring Classic as a prep player ... Lettered all three years he attended Mater Dei ... Took third at the FCG World Championships as a sophomore.
Personal
Born on March 29 ... Undecided on a major at WSU.