Fallen Soldier: Collin J. Bowen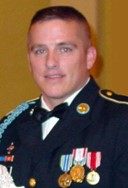 Dates:
Died March 14, 2008
Hometown:
Millersville, Maryland
Branch of Service:
Army National Guard
Rank:
Staff Sergeant
Player:
Yuki Moriyama
SSG Collin J. Bowen, 38, of Millersville, Md. died March 14, 2008, at Brooke Army Medical Center, San Antonio, Texas, from wounds received when his vehicle encountered an improvised explosive device. SSG Bowen was critically injured Jan. 2 in Afghanistan's Khowst province, a troubled region on the Pakistani border. The Army reservist had been hospitalized at Brooke Army Medical Center in Fort Sam Houston, Texas, since Jan. 6.

The veteran soldier was at the end of a year's tour in Afghanistan when he agreed to go on his final mission. He volunteered when asked by a new and inexperienced commander who wanted help. When the fatal explosion occurred on the last day of a 10-day mission, Bowen and others in a convoy were on their way back to base. Bowen suffered burns on 50 percent of his body and spent the last weeks of his life on ventilators and dialysis machines.

His courage did not mean he wasn't afraid, and told his mother so; but, it did not stop him from doing his duty.

I'm very proud of him," said his wife, Ursula, adding that Bowen always tried to help others. That included asking family members to send him candy, paper and pencils to distribute to the children in Afghanistan.

He is survived by his wife and three daughters.