Player: Javan Johnson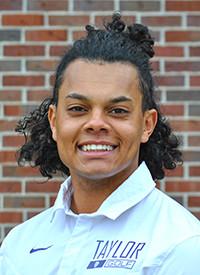 Hometown:
Franklin, IN
University:
Taylor University
Graduation Year:
2023
Area of Study:
Sport Management
2020-21 at Taylor: Competed in all 13 events for the Trojans… Tallied a 73.73 scoring average in 33 competitive rounds… Earned NAIA 2nd Team All-American honors… Named All-Crossroads League… GCAA All-America Scholar… PING NAIA North All-Region Team… Won two events (Battle at the Henge and Garn Championship)… Finished 7th at the NAIA National Championship to earn All-Tournament team honors… Notched eight Top-5's, 11 Top-10's and 12 Top-20's… Academic All-Crossroads League.



2019-20 at Taylor: Competed in five tournaments… Posted a 73.92 scoring average in 13 competitive rounds… Carved a spot in the TU record books with the fifth best season scoring average in program history at 73.92… Managed a career-low score of 68 (-4) in round two of the Bill Bockwitz SAU Fall Classic… Posted a third place finish at the Bill Bockwitz SAU Fall Classic and a T-3 finish at the ChampionsGate Invitational… Tallied a career-low 54-hole total of 1-under 215 (71-72-72) at the ChampionsGate Invitational… Finished the season ranked No. 87 in the NAIA GolfStat National Head-to-Head rankings… Named GCAA PING All-North Region… Named GCAA All-America Scholar.

2018-19 at Taylor: Competed in three tournaments… Logged five rounds with a scoring average of 77.20… Missed the fall season due to injury… Posted a career-low round of 1-under par 71 at the Ackerman-Allen Shootout… Managed four rounds in the 70's.

Prep: Earned four varsity letters at Franklin Community High School in Franklin, Indiana… Earned Indiana All-State honors as a junior in 2017… Posted a 73 in the 2017 IHSAA sectional… Added a 76 in the 2017 IHSAA regional… Finished fifth in the 2016 IHSAA sectional with a round of 72… Won the 2017 GolfWeek Junior Tour event at Miami University (72-77)… Posted a run-away victory at the Indiana Junior Golf Oak Meadow Classic (70-75)… Posted a 73.8 average in injury-shortened senior high school season… Ranked ninth in the class of 2018 in Indiana according to Junior Golf Scoreboard.

Personal: Parents are Jermaine and Dana Johnson… Majoring in finance.