Player: Jackson Parrish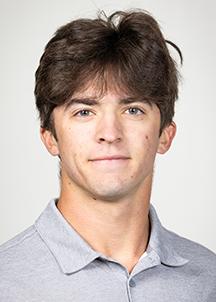 Hometown:
Henderson, NV
University:
Cal Poly
Graduation Year:
2025
Area of Study:
Business Administration
Colorado School of Mines -- A transfer from Colorado School of Mines in Golden, Colo. ... played 11 rounds in fall semester and led the team with a 75.36 scoring average ... highest finish was a tie for 15th place in season-opening The Writz at Mile High at Bear Creek GC in Denver ... shot a 71 in second round of that event as well as in second round of Samuel Proal Invitational at Pueblo CC in Pueblo, Colo. ... majored in chemical engineering during his lone semester -- fall of 2021 -- at Colorado School of Mines.

High School -- A 2021 graduate of Coral Academy of Science in Las Vegas, but played high school golf for Liberty ... two-year varsity letter winner ... earned victory at Pahrump Valley Invitational with rounds of 68 and 66 ... five men's amateur wins since his senior year with a low tournament round of 62 and a low 36-hole total of 14-under-par 130 ... won the Southern Nevada Amateur, Reflection Bay Amateur and SNGA Championship -- and placed second in Nevada State Amateur at Las Vegas Golf Club ... qualified for U.S. Open sectional qualifier with a 67 at the local qualifier at CasaBlanca Golf Club in Mesquite, Nevada, thanks to pair of eagles ... was the No. 1-ranked Nevadan on the Recruit Look Junior Golf Tour having won six straight tournaments since early July 2020 on the circuit ... four-time Recruit Look Tour Player of the Year ... defending PVI champion and scoring record holder at minus-10 ... three-time SNJGA Player of the Year ... the No. 2-ranked high school senior in Nevada ... Honor Roll student all four years with a. grade-point average of 4.7 ... chose to become a Mustang "because of the opportunity Coach Rowe provided me to receive a great education while competing with a great group of guys" ... also made an official visit to Saint Mary's.

Personal -- Son of Russ and Kelly Parrish ... one sister, Lucy ... wants to be a professional golfer ... hobbies include working out and hanging out with friends ... has performed volunteer work at an animal hospital ... born in Los Angeles, Calif. ... majoring in business administration.