Fallen Soldier: Damon LeGrand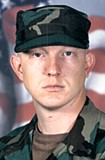 Dates:
Died June 12, 2007
Hometown:
Lakeside, CA
Branch of Service:
Army
Rank:
Corporal
Player:
Leigha Devine
Cpl. Damon LeGrand, 27, of Lakeside, California, was assigned to the 504th Military Police Battalion from Fort Lewis, Washington. He was killed on June 12, 2007 while serving during Operation Iraqi Freedom. Cpl. LeGrand died from wounds sustained when insurgents attacked his unit with anti-tank mines, rocket propelled grenades and small arms fire.

Cpl. LeGrand grew up in San Diego and graduated from Clairemont Senior High in 1995. He had fiery red hair and a passion for the outdoors. From 2000 to 2002, he served with the Utah Ogden Mission of the Church of Jesus Christ of Latter-day Saints. Cpl. LeGrand enlisted in the Army in April 2005 and trained as a military police officer. His unit arrived in Baquba to train the Iraqi police force in one of the country's most troubled provinces.

Damon had accomplished several goals when his Army unit was dispatched to Iraq in 2006. He was looking forward to a career in law enforcement when his Army duty was finished.

"I always told him, 'Don't be a sheep, be a leader.' And he took that to heart. He did that in the Army. He did that in his life," LeGrand's father, Donald, said.

Cpl. LeGrand was the father of two girls, one of which he had never seen. She was born shortly after he deployed to Iraq. He was 27. He is survived by his wife, Ashley, Moira and Kelsie.