Player: Madeleine Laux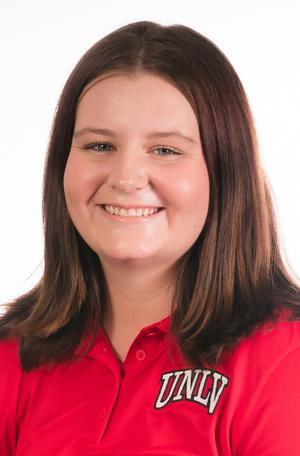 Hometown:
Goodyear, AZ
University:
UNLV
Graduation Year:
2024
Area of Study:
Elementary Education
Soldier Honored:
Stephen J. Sutherland
SOPHOMORE (2021-22): Played in three tournaments totaling nine rounds ... Finished with a scoring average of 76.78 ... Tallied two rounds at par or better with 16 birdies ... Best single-round score of 4-under 68 came in the first round of The Clash at Boulder Creek, which was also a career low ... Best tournament score and finish were also at The Clash as she finished in a tie for 17th at 5-over 221, also a career low.

FRESHMAN (2020-21): In her first season with the Rebels, she competed in eight tournaments totaling 24 rounds … Finished with a scoring average of 76.59 … Top finish was a tie for 12th at Gold Rush … Was one of three rebels to play all 24 rounds in the season, including her best tournament score of 8-over 224 at Rebel Beach where she tied for 15th … Best single round score was a 1-under 71 in the first round of Mountain View Invite.

HIGH SCHOOL: Attended Millennium High school in Goodyear, Arizona ... Helped the Tigers place in state three years ... Placed eighth place at state individually in 2016, fifth in 2017, third in 2018 and second in 2019 ... Played No. 1 in the lineup all four years on varsity ... All-state selection all four years of prep career ... Nominated for player of the year junior and senior years ... Won seven invitationals throughout high school golf.

PERSONAL: Madeleine Elizabeth Galadriel Laux was born in Goodyear, AZ ... The daughter of Kathryn and William Sean Laux ... Dad Sean, was a member of the track and field team at Northern Arizona University from 1992-1996.