Fallen Soldier: Kevin M. Pape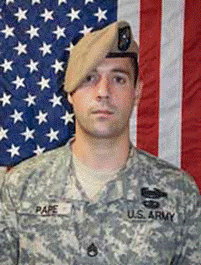 Dates:
Died November 18, 2010
Hometown:
Fort Wayne, Indiana
Branch of Service:
Army
Rank:
Staff Sergeant
Player:
Ty Gingerich
Army Staff Sergeant Kevin M. Pape, 30, of Fort Wayne, Indiana was assigned to the 1st Battalion, 75th Ranger Regiment, Hunter Army Airfield, Georgia. SSG Pape had previously served three deployments to Iraq and was on his third deployment to Afghanistan during Operation ENDURING FREEDOM. He died November 16, 2010 in Kunar province of wounds suffered when insurgents attacked his unit using small arms fire.

SSG Pape was a 1998 graduate of Concordia Lutheran High School. He enlisted in the U.S. Army in September of 2005 and graduated from the Ranger Assessment and Selection Program. He was then assigned to Company C, 1st Battalion, 75th Ranger Regiment in April of 2006, where he served as a machine gunner, team leader, and squad leader. He was posthumously awarded the Bronze Star Medal for valor, the Purple Heart and the Meritorious Service Medal.

"Staff Sergeant Kevin Pape had two priorities in his life – his family and the Rangers he led," said Col. Michael E. Kurilla, commander of the 75th Ranger Regiment. "Kevin was literally the lead Ranger in a heavy firefight against a large number of Taliban in some of the most rugged and extreme terrain in Afghanistan."
SSG Pape's daughter is a Folds of Honor Scholarship recipient.