Player: Ty Gingerich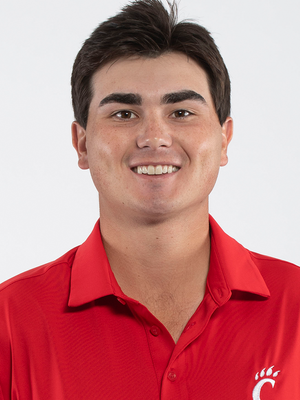 Hometown:
Carmel, IN
University:
University of Cincinnati
Graduation Year:
2023
Area of Study:
Finance & Real Estate
Soldier Honored:
Kevin M. Pape
2021-22 (RS Sophomore): Appeared in all 11 tournaments, recording a 72.76 stroke average ... Carded a career-low 67 in the second round of the year, ultimately finishing eighth at the Hoosier Collegiate Invitational ... Also had a career-best tie for sixth at the Colleton River Collegiate, improving his score each round (71-70-68) ... His third and fourth sub-70 rounds came to open the Mason Rudolph Championship and AAC Championships late in the year ... Tied for 11th at the AACs as well.

2020-21 (RS Freshman): Appeared in all seven tournaments, recording a team-low 72.23 stroke average ... Started with an absolute bang, producing his two lowest rounds, total score and highest finish of the season at the OldField Invitational ... Carded a 68 to start and finish for an 8-under 208 and second-place ranking ... Also tied for second at the Craft Farms Intercollegiate (70-70-73) and 3-under 213 ... Earned another sixth-place ranking at the Hoosier Invitational, finishing with a 9-over 222 ... Later produced a 71 and 70 in his final two tournaments, the latter to conclude the AAC Championships, where he tied for 22nd.

2019-20 Season (Freshman): Sat out the year as a redshirt.

Prior to Cincinnati: Helped Guerin HS to the 2019 Circle City Conference championship and a fourth-place finish at the 2019 IHSAA state championship as a senior … carded a 6-over 150 to tie for 15th place at the 2019 IHSAA state championship … claimed the match play title at the 2019 Indiana Boys State Junior Championship … posted a school-best finish, tying for third at the 2018 IHSAA state championship as a junior, carding a 2-over 146 … advanced to the semifinals of the match play portion of the Boys 2018 State Junior Championship … won medalist honors at the Lafayette Jeff Regional as a junior.

Personal: Born June 21, 2000 in Kokomo, Ind. … son of Kara and Rex Gingerich … has one brother, Weston, and one sister, Tori … his father Rex was a baseball pitcher at Purdue … right-handed.