Fallen Soldier: Matthew Harrison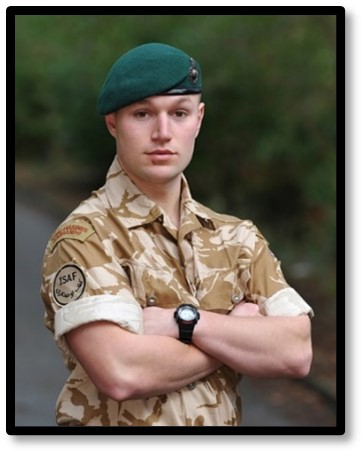 Dates:
Died February 16, 2009
Hometown:
Hemel Hempstead, Hertfordshire, U.K.
Branch of Service:
Royal Marines
Rank:
Marine
Player:
Lucy Jamieson
Marine Matthew Harrison, 23, joined the Royal Marines on February 16, 2009, and upon completion of training joined the 40 Commando. On July 13, 2010, Marine Harrison's unit, Charlie Company, was conducting a reassurance patrol south of patrol base Seylab Doo, Iran. The patrol was confronted with small arms fire, and Marine Harrison was mortally wounded in the attack. He was evacuated to Camp Bastion where he died of his wounds.
Marine Harrison was impressive from the outset and was awarded the King's Badge for being the best all-round recruit in his troop in training. Joining Charlie Company in November 2009, Marine Harrison immediately conducted Mission Specific Training for Operation HERRICK 12. In April 2010, he deployed to Afghanistan and was based at Forward Operating Base Sabit Qadam.
He was a consummate professional and demonstrated all the qualities expected of a Royal Marine. He led from the front in all regards demonstrated by carrying the metal detector in the four months he was deployed, and he undoubtedly saved the lives of many fellow marines finding numerous IEDs.
Marine Harrison is survived by his mother, Janette and father, Brian, as well as his three brothers David, Steven and James.