Fallen Soldier: Patrick Dunn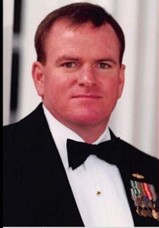 Dates:
Died September 11, 2001
Hometown:
Springfield, Virginia
Branch of Service:
Navy
Rank:
Commander
Player:
Ian Maspat
Navy Commander Patrick Dunn, 39, of Springfield, Virginia, was assigned to the Pentagon's Navy Command Center, working for the Chief of Naval Operations, in Arlington, Virginia. He and 184 individuals lost their lives when Flight 77 crashed into the Pentagon on September 11, 2001.

CDR Dunn chose his private high school, Bishop Ahr in New Jersey, for its Navy ROTC program. He was rewarded later with admission into the U.S. Naval Academy at Annapolis, where he earned a Bachelor of Science degree in Mathematics. He was then commissioned as an ensign by President Ronald Reagan. His tours of duty included serving as an Executive Officer on the USS LaSalle in Gaeta, Italy, and Assistant Damage Control officer on the USS Theodore Roosevelt in Norfolk, Virginia. CDR Dunn was posthumously awarded the Purple Heart for his service and sacrifice.

CDR Dunn was a fan of Navy football and enjoyed being a volunteer fireman, but his first love was family. "His devotion to the Navy and the Naval Academy was a true example of his love for his country. Whether he was tailgating at a Navy football game or performing an inspection on USS LaSalle, being a part of such elite programs made him so very proud." CDR Dunn's wife, Stephanie said. "He was truly the best at what he did. Although he never lived to meet our daughter, I know her birth would have been the proudest moment of his life."

CDR Dunn's daughter is a Folds of Honor Scholarship recipient.