Fallen Soldier: Kenith Casica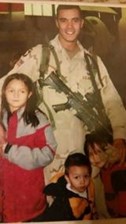 Dates:
Died December 10, 2005
Hometown:
Virginia Beach, VA
Branch of Service:
Army
Rank:
Sergeant
Player:
Sophia Burnett
Army Sgt. Kenith Casica, 32, of Virginia Beach, Virginia, was assigned to the 1st Battalion, 502nd Infantry Regiment, 2nd Brigade Combat Team, 101st Airborne Division, Fort Campbell, Kentucky. Alongside fellow soldier, Staff Sgt. Travis L. Nelson, Sgt. Casica was killed on December 10, 2005 while serving during Operation Iraqi Freedom; it was the result of enemy small arms fire in Baghdad.
Born in the Philippines, Casica spent time in Hawaii and California before settling in Virginia. That is where he met his childhood sweetheart and future wife, Renee. Sgt Casica graduated from Green Run High School in 1994. Two years later, he joined the Army. His first tour of Iraq included a brush with death, when he was injured by shrapnel from a rocket propelled grenade.
As a soldier, he is remembered as dedicated and someone who kept his fellow soldiers motivated through tough times. One day before his death, he told an Army journalist that he wanted the Iraqi citizens "to realize that we are here to help them." His wife and his fellow soldiers recalled the way his smile lit up a room.
More than anything, Sgt. Casica wanted to become a United States citizen. On the day his ashes were buried in west Hopkinsville, Kentucky, he was posthumously granted citizenship. He was also awarded a Bronze Star Medal and Purple Heart. He is survived by Renee and his three children- Kristen, Shilyn and Logan.