Player: Preston Summerhays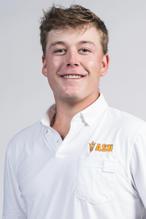 Hometown:
Scottsdale
University:
Arizona State
Graduation Year:
2025
Area of Study:
Communication
Soldier Honored:
Johnathan B. McCain
2021-22 (FRESHMAN SEASON)
• Named Pac-12 Freshman of the Year
• 71.33 stroke average is second-best by a freshman in Sun Devil history
• Had one of the most impressive NCAA match play wins in history with a 7 & 5 win over Oklahoma's Chris Gotterup in the quarterfinals, who was the Haskins Award winner
• Defeated Pepperdine's Joe Highsmith (2-up) in NCAA semifinals
• Had eight top-10 finishes in 13 tournaments
• Summerhays Earns Co-Medalist 18-Hole Honors at East Lake Cup (Oct. 25, 2021)

---------------

FRESHMAN PRESTON SUMMERHAYS 2021-22 ROUND-BY-ROUND
Maridoe Invitational (Sept. 13-15, 2021/75) 79-75-72=226/+10/T37
OFCC/Fighting Illini Invite (Sept. 17-19, 2021/81) 72-74-75=221/+11/T51
Isleworth Invitational (Oct. 17-19, 2021/75) 67-74-72=213/-3/T8
Eastlake Cup (Oct. 25/20) 68/-4/T1
Southwestern Invitational (Jan. 24-26, 2022/64) 74-68-70=212/-4/T6
Amer Ari Invitational (Feb. 3-5, 2022/115) 66-67-71=204/-12/T8
Cabo Collegiate (Mar. 27-Mar. 1, 2022/78) 72-68-66=206/-7/T12
Oregon Duck Invitational (Mar. 21-22, 2022/90) 74-68-75=217/+4/T15
Valspar Collegiate (Mar. 28-29, 2022/81) 70-72-77=219/+6/T59
Thunderbird Collegiate (Apr. 15-16, 2022/88) 74-67-72=213/E/T27
Pac-12 Championship (Apr. 25-27, 2022/72) 71-71-71-72=285/+1/9
NCAA Stockton Regional (May 16-18, 2022/72) 72-70-67=209/-7/T10
NCAA Championship (May 27-30, 2022/156) 73-74-68-74=289/+9/T32
NCAA Match Play Quarterfinal: defeated Chris Gotterup (Oklahoma), 7 & 5
NCAA Match Play Semifinal: defeated Joe Highsmith (Pepperdine), 2-up
NCAA Match Play Championship: lost to Pierceson Coody (Texas), 2 & 1
13 TOURNAMENTS/39 ROUNDS/71.33 STROKE AVERAGE
11 ROUNDS IN 60S/21 ROUNDS OF PAR OR BETTER

-----------------------
THE PRESTON SUMMERHAYS FILE ENTERING ASU
• First-team Rolex Junior All-American
• Youngest winner of the Sunnehanna Amateur (2020)
• 2018 and 2019 Utah Amateur champion
• Competed in the 2020 and 2021 U.S. Open
• Winner of 2019 U.S. Junior Amateur Championship
• 2019 United States Junior Presidents Cup team
• USGA record for 2 rounds of qualifying 65-60

FEATURES/LINKS FOR PRESTON SUMMERHAYS
--How a common-sense training routine increased an elite amateur's speed by 20 mph (by Zephyr Melton, Golf.com/Aug. 11, 2021)
--Four to flourish: Preston Summerhays of men's golf (by Talia Massi, House of Sparky/Juy 29, 2021)
--Desert Made and Desert Proud: Summerhays part of 2021 local fall signees who have some fair (by Marco Salas, TheSunDevils.com/Jan. 12, 2021)
--ASU men's golf signee looks to continue family's legacy on the course (by Leo Tochterman, State Press/Nov. 19, 2020)

QUOTING SUN DEVIL HEAD COACH MATT THURMOND
"Watching Preston develop over the last five-plus years has been so fun for me. We had him in on an unofficial visit five years ago. He's always been a really good golfer, but I don't think I've watched any player improve and develop faster than what Preston has. He works so hard with an unwavering commitment to excellence. He will arrive with a level of golf and competitive experience that you just can't find in an 18-year-old very often. He's comfortable with the best players in the world and he's one of them. There are many parts of his game to love. I think he is already at a PGA-Tour level around the greens. I have seen very few who can chip and pitch like Preston. He has no brake in his game either. When he is [playing] well he will keep going and he can win at any level and shoot very low scores. He has put in the work and he knows he can win any time he plays."