Fallen Soldier: Daniel McCall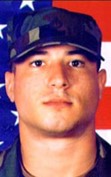 Dates:
Died October 30, 2007
Hometown:
Pace, FL
Branch of Service:
Army
Rank:
Sergeant
Player:
Brittany Shin
Sgt Daniel Lee McCall, 24, of Pace, Fla. was assigned to the 1st Battalion, 15th Infantry Regiment, 3rd Brigade Combat Team, 3rd Infantry Division, Fort Benning, Ga. He died Oct. 30, 2007 in Baghdad. Daniel had been riding in the back of a Bradley Fighting Vehicle when it was hit by a very powerful Improvised Explosive Device and then encountered insurgents with small arms fire.
Sgt. McCall attended Pace High where his accomplishments will always be remembered. He still holds the 400-meter record. He had good speed and ran well. The happy-go-lucky kid could run forever and run fast. Sgt. McCall also played soccer throughout his life and football during his senior year. He was chosen to the News Journal All-Area Track second team.
Brittnay McCall said that her husband was her soul mate, with "the biggest brightest smile" and always a jokester — one time even getting in trouble for making others laugh at church. He was just an awesome husband and soldier, just doing anything to make me happy. He was a hard worker and loved what he did.
Daniel's accomplishments while serving his country include: Combat Life Savers Training, Sniper School, Warrior Leaders Course, Airborne School and Special Forces Training. Daniel's medals for service are the Purple Heart, Parachute's Badge, Combat Infantryman Badge, Bronze Star Medal.
He is survived by his wife.