Player: Brittany Shin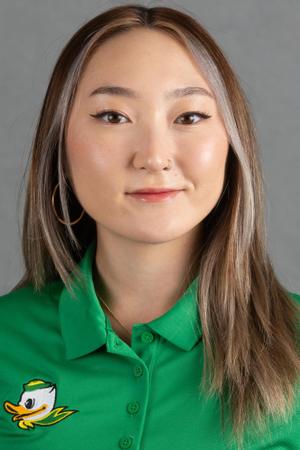 Hometown:
Cape Coral, Florida
University:
University of Oregon
Graduation Year:
2023
Area of Study:
Criminal Justice
Soldier Honored:
Daniel McCall
2021-22 | JUNIOR
75.17 scoring average through two tournaments (6 rounds) ... Spring: Tied for 38th overall (78-76-75, +13) at the Lamkin Invitational in her first tournament as a Duck ... Helped lead Oregon to its second team victory of the season at the Florida State Match Up, earning her best finish as a Duck in a tie for 12th after shooting 6-over par (76-69-77) ... ... Fired a terrific 3-under 69 in the second round of the Florida State Match Up while recording the first eagle of her collegiate career and the first by a Duck in 2021-22 ... Fall: Did not compete in a tournament for the Ducks during the fall.

BEFORE OREGON
Joined Oregon ahead of the 2021-22 season after transferring from Cal State Fullerton ... The 2021 Big West Golfer of the Year after leading Cal State Fullerton with a 73.80 scoring average in six team tournaments ... Claimed individual medalist honors at both the 2021 Valley Invitational (76-69-74, +3) and the 2021 Wyoming Girl Classic (67-71-73, -5) ... Matched her collegiate best with a 5-under 67 in the opening round of the Wyoming Girl Classic ... Finished in the top 10 in five of six team tournaments during 2021, posting a pair of victories and tying for fourth at the Big West Championship ... Qualified for the 2021 NCAA Stanford Regional as an individual, tying for 57th place at 11 over ... Two-time Big West Women's Golfer of the Month in 2020-21 ... Led Cal State Fullerton with a 73.67 scoring average as a freshman during the COVID-19-shortened 2019-20 season ... Claimed her first collegiate victory at UNF Collegiate in March 2020, shooting 1 over with a 70-75-72 performance ... Fired a 5-under 67 in the second round of the 2019 Rose City Collegiate ... First career sub-70 round as a collegiate was a 3-under 69 in the second round of the Boston College Intercollegiate, tying for fifth place overall for her first career top-10 finish while helping Cal State Fullerton claim the team title.