Fallen Soldier: Sonny C. Zimmerman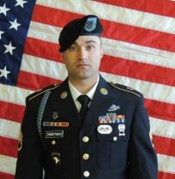 Dates:
Died July 18, 2013
Hometown:
Waynesfield, Ohio
Branch of Service:
Army
Rank:
Staff Sergeant
Player:
Maxwell Moldovan
Army Staff Sergeant Sonny C. Zimmerman, of Waynesfield, Ohio, was assigned to 1st Battalion, 506th Infantry Regiment, 4th Brigade Combat Team based in Fort Campbell, Kentucky and served during Operation ENDURING FREEDOM. On July 16, 2013, SSG Zimmerman died of wounds caused by a rocket-propelled grenade in Mushaka, Afghanistan. This was his fourth tour.

SSG Zimmerman was a graduate of Waynesfield-Goshen High School where he played football and baseball. He was a member of Waynesfield United Methodist Church, an avid Ohio State University Buckeyes fan, Cleveland Browns fan, Detroit Red Wings fan and he loved to play roller hockey. He enlisted in the Army immediately following graduation in June 2005. SSG Zimmerman was awarded a Purple Heart, a Bronze Star with Valor, three Army Commendation medals, two Army Achievement medals, and two Army Good Conduct medals for his service and sacrifice.

"His fellow soldiers knew him as a leader and spoke freely of the times he helped them, stood up for them and sacrificed for them," said Ohio representative Jim Jordan. "He volunteered to serve. He loved the Army, loved his country and fought to promote freedom." SGT Charles E. Demler said, "Sonny, I knew you as Zimmerman or SGT Z. You were and will always be a very motivational influence in my life. You will never be forgotten."

SSG Zimmerman's daughter is a Folds of Honor Scholarship recipient.