Fallen Soldier: Timothy Cole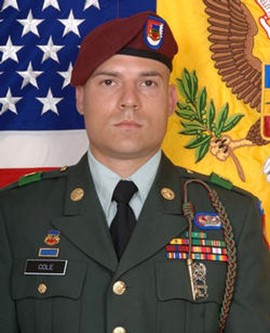 Dates:
Died June 6, 2007
Hometown:
Missouri City, TX
Branch of Service:
Army
Rank:
Staff Sergeant
Player:
Trinity King
Army Staff Sgt. Timothy Bruce Cole Jr., 28, of Missouri City, Texas was assigned to the 5th Squadron, 73rd Cavalry Regiment, 3rd Brigade Combat Team, 82nd Airborne Division, Fort Bragg, North Carolina. While serving during Operation Iraqi Freedom, he was on patrol in Sadah, Iraq, when an improvised explosive device detonated near his vehicle. He died of his injuries on June 6th, 2007.
Cole attended Louisiana State University at Alexandria and Northwestern State University before joining the Marine Corps in 1998. He served in supply and logistics for four years and was deployed to Afghanistan. Upon leaving the Marines, he entered the Army in 2005 as a cavalry scout. Upon completing training at Fort Knox, Ky., he was reassigned to 73rd Calvary, where he served as a gunner and then a team leader in an airborne reconnaissance squadron. He deployed for his second tour to Iraq in August.
"Staff Sgt. Cole was a tough man, a proven combat leader, and was well-liked and respected by those that knew him," said Lt. Col. Andrew P. Poppas, commander of the 5th Squadron, 73rd Calvary. "Even in the most challenging of situations, Sgt. Cole's calm demeanor and quick wit always had a way to make everyone laugh. His friendship and leadership will truly be missed."
He is survived by his wife, Lindsay, and four children.