Fallen Soldier: Megan McClung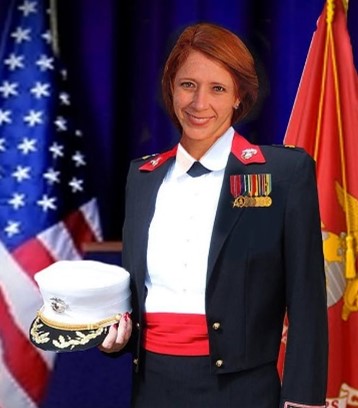 Dates:
Died December 6, 2006
Hometown:
Orange County, CA
Branch of Service:
Marine Corps
Rank:
Major
Player:
Eve Worden
U.S. Marine Corps Major Megan McClung died December 6, 2006, while escorting Newsweek journalists into downtown Ramadi when a massive improvised explosive device destroyed her Humvee, instantly killing McClung and the other two occupants.
She was the first female USMC officer killed in combat during the Iraq War. as well as the first female graduate of the U.S. Naval Academy to be killed in the line of duty.
Maj. McClung graduated from the Naval Academy and was commissioned in 1995. She served on active duty until 2004, when she entered the Reserves. She joined Kellogg, Brown, and Root, an American engineering and construction company and went to Iraq as a private contractor.
In 2006, she returned to active duty with the Marines and was deployed to Iraq as a public affairs officer with the I Marine Expeditionary Force, where she was in charge of embedded journalists.
While in high school and college, Maj. McClung competed as a gymnast. She was also a triathlete (having competed in six Ironman competitions) and a marathoner.
Major Megan McClung was buried with full military honors in Arlington National Cemetery on December 19, 2006. Her headstone bears a phrase she coined while training military personnel on how to conduct interviews with the press: "Be Bold. Be Brief. Be Gone."
Major McClung was the daughter of Michael and Re McClung of Coupeville, Washington.