Fallen Soldier: Casey Combs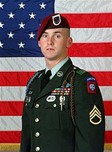 Dates:
Died April 12, 2007
Hometown:
Auburn, WA
Branch of Service:
Army
Rank:
Staff Sergeant
Player:
Anika Varma
Army Staff Sgt. Casey Dean Combs, 28, of Auburn, Washington, was assigned to the 2nd Battalion, 508th Parachute Infantry Regiment, 4th Brigade Combat Team, 82nd Airborne Division, Fort Bragg, North Carolina. He was killed on April 12th, 2007 in Miri, Afghanistan, when his vehicle was struck by an improvised explosive device during combat operations, alongside Sgt. David A. Stephens.

Staff Sgt. Combs was born in Renton, Washington, and a graduate of Sumner High School. He was working as a construction foreman at the time of the September 11th attacks. Later that week, Casey told his wife, Amber, that he had something to do. A few days later, an Army recruiter was at their house; he felt that enlisting was what he needed to do to keep everyone safe. Those who knew him said he was not one to step away from a challenge or skirt responsibility and he enlisted in the Army in March 2005 after graduating from University of Tennessee Chattanooga with his bachelor's degree in abnormal psychology. Ultimately, he served two tours in Iraq before his stint in Afghanistan.

Combs never talked much about his life on the battlefield; he felt that a good soldier "doesn't boast; a good soldier just did his job." Although his family was curious, they never pried; it was only after his passing that they learned about his medals and awards, what his life was like as a soldier and his heroism. He is survived by Amber and two children.