Fallen Soldier: Paul Finken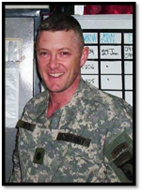 Dates:
Died November 2, 2006
Hometown:
Mason City, IA
Branch of Service:
Army
Rank:
Lieutenant Colonel
Player:
KARISA Chul-ak-sorn
Army Lieutenant Colonel Paul J. Finken, 40, of Mason City, Iowa, was assigned to the 1st Battalion, 506th Infantry Regiment, 4th Brigade Combat Team, 101st Airborne Division based in Fort Campbell, Kentucky and served during Operation IRAQI FREEDOM. On November 2, 2006, LTC Finken and two other soldiers were killed when an improvised explosive device detonated near their vehicle in Baghdad, Iraq.
After graduating Harlan High School in 1984, LTC Finken applied to the U.S. Military Academy at West Point, but he didn't get in on his first effort. A year later, he earned an appointment to the academy, where he joined his twin brother, Peter. After graduating from West Point in May 1989, he was commissioned Infantry and completed Ranger and Air Assault school prior to his first duty assignment in Alaska. His awards include a Bronze Star, Meritorious Service medal, Armed Forces Service medal and NATO Service medal.
"Paul was the kind of guy you could ask 100 people and they would all say he was one of their closest friends. He never waited for anyone to approach him, he just jumped right in and made friends," said Pat Hoffman, a high school classmate. "It's pretty special to find someone who is 18 or 19 years old and can stay focused enough to keep their dream alive after the first try doesn't work out," said Marcus Gross, a high school classmate, of LTC Finken's second attempt to get into West point.
Two of LTC Finken's daughters are Folds of Honor Scholarship recipients.