Fallen Soldier: Jessica Cawvey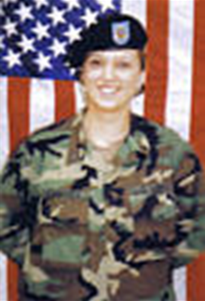 Dates:
Died October 6, 2004
Hometown:
Normal, Illinois
Branch of Service:
Army
Rank:
Sergeant
Player:
Anjeanette Brown
Sergeant Jessica L. Cawvey, 21, of Normal, Ill., was assigned to the 1544th Transportation Company of the Illinois Army National Guard, and served during Operation IRAQI FREEDOM. On October 6, 2004, Sgt. Cawvey was killed when an improvised explosive device detonated near her convoy vehicle in Fallujah, Iraq.

Sgt. Cawvey graduated from Mahomet-Seymour High School in 2001 and earned her associate degree in accounting from Parkland College in 2003. She was also pursuing a bachelor's degree at Illinois State University to provide for her daughter. To continue her educational path, she joined the U.S. Army National Guard in the spring of 2001. The Army honored Sgt. Cawvey's service posthumously with the Purple Heart, the Bronze Star Medal and the Army's Good Conduct Medal, in addition to promoting her from Specialist to Sergeant.

"Any task she was given she would always get accomplished. She was an excellent battle buddy," said one of Sgt. Cawvey's fellow soldiers. "She would do everything in her power to protect me. I will always remember her incredible laugh that would get everyone around her laughing. She knew the extent of the dangers that would await us every night out there on the road. She had been through ambushes, she had IEDs go off near her, yet she did not hesitate to volunteer for any mission. If her fellow soldiers were there, she was there. No questions asked."

Sgt. Cawvey's daughter is a Folds of Honor Scholarship recipient.