Fallen Soldier: Jonathan Schmidt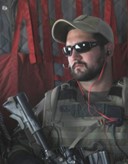 Dates:
Died September 1, 2012
Hometown:
Petersburg, VA
Branch of Service:
Army
Rank:
Staff Sergeant
Player:
Katherine Muzi
Army Staff Sergeant Jonathan P. Schmidt, 28, of Petersburg, Virginia was assigned to the 192nd Ordinance Battalion, 52nd Ordinance Group, 20th Support Command (CBRNE) based in Fort Bragg, North Carolina. He was serving as an Explosive Ordinance Disposal Specialist in Afghanistan during Operation ENDURING FREEDOM. On September 1, 2012, SSG Schmidt and another soldier was killed when enemy forces attacked their unit.
SSG Schmidt graduated from Thomas Dale High School and joined the U.S. Army in 2003. After graduating basic training and Airborne school in November 2004, he immediately deployed to Iraq and served as a Psychological Operations Specialist. In November 2006, SSG Schmidt volunteered to become an Explosive Ordinance Disposal (EOD) Technician. He graduated EOD school at Eglin Air Force Base in Florida in March 2008 and became a certified EOD team leader in May 2009. SSG Schmidt has been awarded the Bronze Star medal, Purple Heart, Combat Action Badge, Army Commendation medal, and Army Achievement Medal for his service and sacrifice.
SSG Schmidt was an avid outdoorsman who enjoyed camping, hiking and fishing. He enjoyed cooking and entertaining with family and friends as well as working in his garage with his Harley and Excursion vehicles. "Jonathan loved playing army with his toy soldiers and action figures since he was a small child. He was always someone who stood up for the truth and safety of others and he wanted to make a difference in the world," his wife Natalie said.
SSG Schmidt's son is a Folds of Honor Scholarship recipient.