Fallen Soldier: Timothy J. Hines, Jr.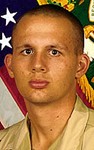 Dates:
Died July 14, 2005
Hometown:
Fairfield, Ohio
Branch of Service:
Army
Rank:
Private First Class
Player:
Jackson Chandler
Army PFC Timothy Hines 21, of Fairfield, Ohio; assigned to the 64th Military Police Company, 720th Military Police Battalion, 89th Military Police Brigade, Fort Hood, Texas. He died July 14, 2005, at the Walter Reed Army Medical Center, Washington, D.C., of wounds sustained on June 19 when an improvised explosive device detonated near his Humvee in Baghdad.

PFC Hines was the gunner on a Humvee in a convoy when a bomb detonated on a Baghdad highway on Father's Day. He suffered kidney and tissue damage and internal bleeding, and his right leg was amputated in a Baghdad hospital. He was having emergency surgery when he died.

PFC Hines enlisted in December 2003 and was stationed at Fort Hood, Texas, with the 720th Battalion, 89th Military Police Brigade, 64th Military Police Unit, before deploying to Iraq in February.

"Tim was a fighter. He fought hard for his country, family and ultimately, his life. He was a loyal husband and father and an incredible American," a tearful Katy Hines said. "There is a price for freedom and Tim paid the ultimate price. Now he is in the loving arms of God."

In addition to the acts of kindness from their friends and neighbors, the family also had reason to be grateful to an anonymous donor. The donor gave Cincinnati Christian $130,000 to cover tuition for Hines' two children.

He is survived by his wife, Katy; daughter, Lily; and son Noah.