Fallen Soldier: Jeffrey J. Garber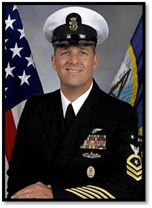 Dates:
Died June 20, 2009
Hometown:
Hemingford, Nebraska
Branch of Service:
Navy
Rank:
Command Master Chief
Player:
Ryan Griffin
Command Master Chief Jeffrey J. Garber, 43, of Hemingford, Nebraska, was assigned to the Dwight D. Eisenhower carrier in the North Arabian Sea and died on June 20, 2009 of non-hostile causes while serving during Operation ENDURING FREEDOM. Initial indications are that his death was from natural causes.

CMDCM Garber enlisted in the Navy in 1983 and his at-sea assignments included time aboard the cruiser USS Worden, the carrier USS Nimitz and the dock landing ship USS Portland. He served as the command master chief of Strike Fighter Squadron 34, the "Blue Blasters." CMDCM Garber was presented several awards including the Meritorious Service Medal, Navy/Marine Corps Commendation Medal, six Navy/Marine Corps Achievement Medal, Meritorious Unit Commendation, and five Good Conduct Medals for his service and sacrifice.

"Master Chief Garber was one of the finest individuals I have ever had the pleasure of knowing," said Captain Calvin Craig, COW-7 commander. "He was the epitome of what a Command Master Chief should be – at every turn selflessly taking care of the men and women of the air wing and the entire IKE Strike Group team. To say that he will be sorely missed is an understatement."

Both of CMDCM Garber's daughters and his wife, Amy, are Folds of Honor Scholarship recipients.