Fallen Soldier: Juan C. Baldeosingh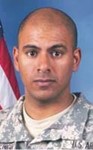 Dates:
Died June 29, 2009
Hometown:
Newport, North Carolina
Branch of Service:
Army
Rank:
Sergeant
Player:
Pearse Lucas
Army Sgt. Juan Carlos Baldeosingh, 30, of Newport, North Carolina, was assigned to the 120th Combined Arms Battalion, North Carolina National Guard, Wilmington, N.C. Sgt Baldeosingh died from wounds sustained when an improvised explosive device detonated near his vehicle on June 29th, 2009 in Baghdad, Afghanistan. It was the North Carolina Nation Guard's largest single combat loss since World War II.

Sgt. Baldeosingh's Holy Trinity Catholic School classmates recalled him talking about joining the service during lunches and walking for long distances with bricks in his backpack as training for long marches. After graduating high school, Baldeosingh began his military career in the U.S. Marine Corp as a fire direction controlman. Sgt. Baldeosingh left the Marine Corps for a job on Carteret General Hospital's safety and security team as a Spanish translator but his desire to serve his country never wavered as he enlisted in the Guard in 2008; he was on a temporary leave from CGH at the time of his passing and planned to return in December.

Sgt. Baldeosingh is survived by his wife of seven years, Rebecca, and three daughters- Kylie, Isabella, and Emily. On June 11th, 2022, his family attended the National Guard Readiness Center renaming ceremony in honor of Juan; the renaming is designed to commemorate and to reflect on the courage and valor of a fallen Old Hickory soldier.