Fallen Soldier: Christopher Vanderhorn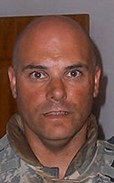 Dates:
Died January 1, 2006
Hometown:
Tacoma, WA
Branch of Service:
Army
Rank:
Staff Sergeant
Player:
Briana Chacon
Army SSgt. Christopher Vanderhorn, 37, was a member of the 1st Battalion, 187th Infantry Regiment, 3rd Brigade Combat Team, 101st Airborne Division out of Fort Campbell, Ky. He died January 1, 2006, serving during Operation Iraqi Freedom when an improvised explosive device detonated near his Humvee during patrol operations in As Sinia, Iraq.
SSgt. Vanderhorn first joined the service in his early 20's and served for 7 1/2 years in Hawaii and Italy. He saw combat in Bosnia and in Sierra Leone in Africa.
With little chance at that time for advancement in the Army, he left the service and returned to Washington, where he became a reserve officer in the Milton and Ruston police departments. He was a court officer in Fife and served in the Army Reserves.
In 2004, he decided to re-enlist in the Army when the United States was deep in the war in Iraq, according to his mother. "He always wanted to be either a policeman, soldier or fireman," she said. "Chris did love God; he loved his family; he loved this country. And we kind of laugh because he was born on Flag Day, and so we always flew a flag on his birthday."
SSgt. Vanderhorn is survived by his wife Teresa and their two children.