Fallen Soldier: Jared Verbeek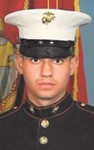 Dates:
Died June 12, 2011
Hometown:
Visalia, California
Branch of Service:
Marine Corps
Rank:
Lance Corporal
Player:
Leo Oyo
Marine Corps LCpl Jared Verbeek, 22, of Visalia, Calif., died June 21, 2011, from an improvised explosive device while conducting combat operations in Helmand province, Afghanistan. This was his second deployment. He was assigned to 1st Battalion, 5th Marine Regiment, 1st Marine Division, Camp Pendleton, Calif.

LCpl Verbeek was a member of the Corps' military police involved in training Afghan law enforcement. He enlisted in the Marines in September 2007 shortly after graduating from high school.

Family members said joining the Corps was a goal since he was a little boy. "He comes from four generations of service members," said his aunt, who recounted a family story of how Jared would dress in his father's fatigues and combat boots as a boy when the elder Verbeek was a Marine stationed at Camp Pendleton.

They said Jared asked his mother to shrink one of his father's T-shirts so he could decorate it with ribbons to simulate medals and stripes and wear it. His cousin, Joshua Wallace said an officer stopped 7-year-old Jared in the outfit and asked playfully if he was a sergeant. "He said, 'No sir, I'm a general'", and received a salute from the officer.

LCpl Verbeek's service awards include the Purple Heart, the Combat Action Ribbon, the National Defense Service Medal, the Global War on Terrorism Service Medal, the Marine Corps Good Conduct Medal and the Afghanistan Campaign Medal.

He is survived by wife Vanessa and son Jacob.