Fallen Soldier: Christopher Gonzalez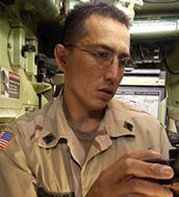 Dates:
Died May 14, 2007
Hometown:
Winslow, AZ
Branch of Service:
Army
Rank:
Sergeant
Player:
Gabriel Salvanera
Army Sgt. Christopher Gonzalez, 25, of Winslow, Ariz. was assigned to 1st Battalion, 15th Infantry Regiment, 3rd Brigade Combat Team, 3rd Infantry Division, Fort Stewart, Ga. He died May 14, 2007, in Salman Pak, Iraq, when his unit came in contact with enemy forces using an improvised explosive device and small-arms fire.

Sgt. Gonzalez was from the Navajo Nation. He enlisted in the Army in 2001. The military was his life. He served two tours in Iraq and did an eight- month tour in Korea.

Navajo Nation President Joe Shirley issued a proclamation in honor and in recognition of Sgt. Gonzalez. He also ordered flags on the Navajo Nation flown at half-staff in honor of Gonzalez.

Chris may have been, as many of his friends described him, a happy-go-lucky guy. But not so happy-go-lucky that he didn't anticipate his own death. He had planned every detail of the service, down to the soundtrack accompanying a 25-minute slide show of his life that followed the videotaped memorial, an odd juxtaposition of belligerent Toby Keith tunes and sentimental love songs for his wife and son. Christopher was qualified as a Sniper and was carrying out his second tour of duty in Iraq when he was killed.

He is survived by his wife Tonita Gonzalez and son Brennen Gonzalez of Columbus Georgia. He is also preceded in death by his two-year-old son, Joey N. Gonzalez.