Fallen Soldier: Billy Siercks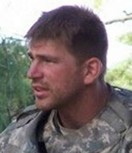 Dates:
Died September 27, 2011
Hometown:
Velda Village, MO
Branch of Service:
Army
Rank:
First Sergeant
Player:
Julia Misemer
Army First Sergeant Billy J. Siercks, 32, of Velda Village, Missouri, was assigned to the 2nd Battalion, 10th Aviation Regiment, 10th Combat Aviation Brigade, 10th Mountain Division Fort Drum, New York, and served during Operation ENDURING FREEDOM. On September 28, 2011, 1SG Siercks succumbed to wounds he suffered from shrapnel to the back of his neck, head and spine on September 27, 2011 when insurgents attacked his unit in Logar, Afghanistan, using indirect fire.
1SG Siercks enlisted in the U.S. Army during his senior year at Lincoln High School in 1997. He began his training at Fort Benning, Georgia and eventually became part of the elite group of Airborne Rangers. He was deployed numerous times to places such as Bosnia, Kuwait, Iraq and Afghanistan. 1SG Siercks was a highly decorated Ranger who received three Bronze Stars, one with Valor and two Purple Hearts for his service and his sacrifice.
1SG Siercks loved the camaraderie and the closeness of his fellow soldiers. He also loved being a part of his Army unit leadership team and died in the process of directing his soldiers to safety. He was a much-loved leader and strongly believed in the work he was doing and in the missions his unit and soldiers supported. It was important to him to provide support, guidance and care to his soldiers.
One of 1SG Siercks' sons is a Folds of Honor Scholarship recipient.