Fallen Soldier: Travis Vaughn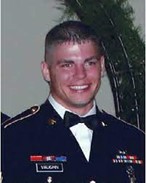 Dates:
Died February 18, 2007
Hometown:
Reinbeck, IA
Branch of Service:
Army
Rank:
Specialist
Player:
Taglao Jeeravivitaporn
Army Spc. Travis R. Vaughn, 26, of Reinbeck, Iowa, was assigned to the 2nd Battalion, 160th Special Operations Aviation Regiment (Airborne), Fort Campbell, Kentucky. He died on February 18th, 2007, in southeastern Afghanistan, when the Chinook helicopter he was in crashed. He was killed alongside seven other fellow soldiers.

A 1999 graduate of Cedar Falls High School, Spc. Vaughn enlisted in the U.S. Army in October 2003 as a Chinook Helicopter repairman. He completed Basic Training at Fort Jackson, South Carolina and Advanced Individual Training at Fort Eustis, Virginia. After that, he was assigned to the 2nd Battalion, 52nd Aviation Regiment, Camp Humphreys, Korea. In July 2005, he arrived at the 160th Special Operations Aviation Regiment (Airborne) and completed their "Green Platoon" course, an initial selection and training requirement prior to assignment. Spc Vaughn was deployed twice in support of Operation Enduring Freedom in Afghanistan.

Kandi Vaughn, his stepmother, said when he was little, Travis loved to tear his toys apart. "He could tear a Chinook apart and put it back together," almost blindfolded, she said. "Travis' dad (Brad) said "Of course he had to do special ops. He couldn't just go in and be in, he had to do the risky stuff."

He was posthumously awarded the Meritorious Service Medal and the Air Medal. He left behind his wife, Heather, and son, Taylin.