Fallen Soldier: James C. Kesinger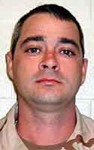 Dates:
Died December 13, 2005
Hometown:
Pharr, Texas
Branch of Service:
Army
Rank:
Specialist
Player:
Johnny Keefer
Army SPC James C. Kesinger, 32, died in Taji, Iraq, December 13, 2005 where he was conducting combat operations when an improvised explosive device detonated near his HMMWV. He was assigned to 2nd Battalion, 70th Armor, 3rd Brigade Combat Team, Fort Riley, Kansas.

SPC Kesinger was one of two male cheerleaders in high school, where he graduated in 1992. He also ran track, played football and was in the school band.

He entered the Army through the National Guard in 2001 and then enlisted in the reserves in 2002. He became active duty in 2004 and arrived at Fort Riley in June. SPC Kesinger may only have been 5-foot-8 and 138 pounds, but his giant heart led him back to Iraq for a second time. He volunteered to leave his company to help another desperate for medics.

While serving in Iraq, James C. Kesinger met his wife via the Internet. So taken was he with Juanita Zuniga, Kesinger used his two-week break later that year to fly to Texas and meet her for the first time in person. "He came to the door one day and met her. They went out and ate and talked a long time. By the end of his break, he bought the rings, proposed to her and they were married right away," said her father, Jesus. "They understood each other."

He is survived by his son and two stepdaughters.