Fallen Soldier: Raymond R. Buchan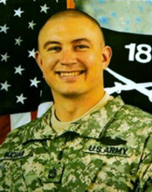 Dates:
Died July 1, 2007
Hometown:
Johnston, Pennsylvania
Branch of Service:
Army
Rank:
Sergeant First Class
Player:
Palmer Jackson
Army Sergeant First Class Raymond R. Buchan, 33, of Johnston, Pennsylvania, was assigned to the 1st Battalion, 18th Infantry Regiment, 2nd Brigade Combat Team, 1st Infantry Division based in Schweinfurt, Germany and served during Operation IRAQI FREEDOM. On July 1, 2007, SFC Buchan and another soldier died of wounds sustained from enemy small-arms fire in Ta'meem, Iraq. This was his second tour of duty in Iraq.

SFC Buchan graduated from Westmont Hilltop High School in 1991, where he was an all-star in football and basketball. He graduated from Central Texas College. After earning his diploma, Buchan traded football fields for battlefields, immediately enlisting in the Army. SFC Buchan was awarded a Purple Heart for his service and sacrifice.

"He loved his family tremendously," Philip Buchan, SFC Buchan's brother, told The Tribune-Democrat in Johnstown. "He loved his work. He wanted to be there for his troops. That's what he truly loved." Sgt. Buchan was humble and respected by the men under his command. He was an outstanding soldier, father, son, brother and friend. SFC Buchan displayed an uncanny quality of humility and a genuine concern for all people. He loved football, particularly the Pittsburgh Steelers. He also enjoyed steel head fishing at the Walnut Creek Access area in Fairview and spending time with family and friends.

SFC Buchan's son is a Folds of Honor Scholarship recipients.