Fallen Soldier: Larry I. Rougle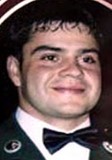 Dates:
Died October 23, 2007
Hometown:
West Jordan, Utah
Branch of Service:
Army
Rank:
Staff Sergeant
Player:
Carson Lundell
Staff Sgt. Larry I. Rougle, 25, of West Jordan, Utah was assigned to 2nd Battalion, 503rd Airborne Infantry Regiment, 173rd Airborne Brigade Combat Team, Vicenza, Italy.He died October 23, 2007, in Sawtalo Sar Mountain, Kunar Province, Afghanistan, of stomach wounds when he was engaged by enemy small arms fire during combat operations.

His father, Ismael Rougle, who had served 25 years in the Army, recalled the day his then-17-year-old son had come home to say that he was going to join the Army. "I'd never suggested it, but he had it in his mind that this is what he wanted to do. And he was so proud."

That was in 1999. Two years later, in the wake of the attacks of September 11, 2001, SSgt. Rougle departed for his first combat tour. He was 19. Over the six years that have followed, he served two more tours in Afghanistan and three in Iraq as a U.S. Army sniper, a total of six tours.

When SSgt. Rougle visited his family in Utah last spring, he told his mother that he was returning to Afghanistan again. "He told me that he didn't think that he would be making it home this time," Nancy Rougle said. "I said, 'No, no, let's not talk about it.' I didn't want to believe it."

Rougle is survived by his daughter, Carmen Jade. He loved that girl more than anything, the family said, but remained proud to serve.