Player: Zoe Slaughter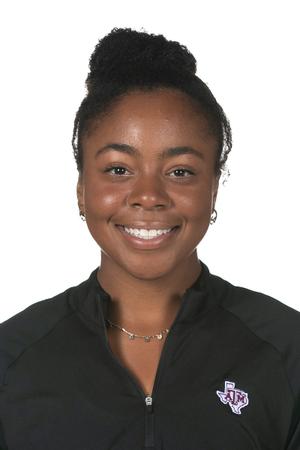 Hometown:
Houston, Tx
University:
Texas A&M University
Graduation Year:
2024
Area of Study:
Psychology
Soldier Honored:
Bradley Espinoza
About Zoe
• 2020-21 American Athletic Conference Freshman of the Year
• 2020-21 All-American Athletic Conference
• The American Golfer of the Week (March 24, 2021)
• 2020-21 American Athletic Conference All-Academic Team

2022-23 (Junior at Texas A&M)
Has posted a 72.33 stroke average ... Tied for 18th at the Carmel Cup, carding a 5-over 221 at Pebble Beach ... Came in ninth at the "Mo" Morial Invitational after shooting a 3-under 213.

2021-22 (Sophomore at Texas A&M)
Produced a 72.29 stroke average, the third best for a sophomore in program history … Played in 11 tournaments … Tied for 17th at the 2022 NCAA Championships, highlighted by a 3-under 69 in the first round … Went 1-1 in match play, defeating FSU's Amelia Williamson 2-up in the quarterfinals … Locked in the best finish of her career at the Schooner Fall Classic where she shot 1-over 211 and tied for seventh … Tied the lowest round in program history with an 8-under 64 in the final round of the Jim West Challenge … Earned five top-15 finishes.

2020-21 (Freshman at Houston)
Made her collegiate debut at season-opening UCF Challenge at Eagle Creek Golf Club in Orlando... Opened with a bogey-free 70... Tied for 57th at 226... Lowered her score with each round and tied for 24th at 223 at Teas State Invitational at Plum Creek Golf Course in Kyle, Texas... Fired three consecutive sub-par rounds to finish second and lead Cougars with score of 8-under 208 at MountainView Collegiate at The Preserve Golf Club in Saddlebrooke, Ariz... Opened that tournament with a team-season-low 67... Earned her second straight Top-10 finish with a score of 1-under 215 to tie for ninth at The Bruzzy at Lantana Golf Club in Argyle, Texas... Finished seventh at The American Championships with score of 221 at Pinehurst No. 6 – Pinehurst Resort in Pinehurst, N.C.

High School/Junior Golf
Coached by Holly Paulk... Recognized as a Rolex Junior All-America Honorable Mention... Served as a volunteer for Star of Hope Mission and the Houston Food Bank... Received TransAmerica/AJGA Scholastic Award for her work in classroom. Junior (2018-19): Recognized as UIL 5A & 6A Player of the Year... Finished second at the Class 6A State Championships with a score of 3-under 141 at Legacy Hills Golf Club in Georgetown, Texas... Earned medalist honors at the District 17-6A Championships... Helped lead Mustangs to fourth-place team finish at Class 6A State Championships... Set junior record at University of Texas Golf Club with a 65 in Final Round of Sergio and Angela Garcia Foundation Junior Championship... Named Legends Junior Tour Player of the Year. Sophomore (2017-18): Helped lead Mustangs to fifth-place team finish at Class 6A State Championships... Freshman (2016-17): Helped lead Mustangs to seventh-place team finish at Class 6A State Championships... Captured the Houston City Junior Match Play championship.