Fallen Soldier: Gavin B. Reinke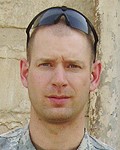 Dates:
Died March 27, 2023
Hometown:
Pueblo, CO
Branch of Service:
Army
Rank:
Staff Sergeant
Player:
Connor Jones
SSgt Gavin B. Reinke, 32, was assigned to the 5th Engineer Battalion, 1st Engineer Brigade, Fort Leonard Wood, Missouri. He died in Baghdad, Iraq on May 4, 2006, when an improvised explosive device detonated near their RG-31 Mine Protected Vehicle during combat operations.

SSgt. Reinke was deployed for his second tour of duty in Iraq in November. Reinke died while trying to help fellow soldiers whose Humvee had been hit by an explosive device moments earlier.

"That's exactly the kind of person he was," wife Karen Reinke said. "He was an amazing man. As a friend, as a father, as a husband, and it carried over to being a soldier."

Reinke was born in New Jersey, but his family moved to Pueblo, Colorado in 1980. He was a 1993 graduate of Pueblo Central High School and attended Pueblo Community College, where he studied Spanish. He joined the military in 1996. Carole Reinke said he loved his job and wanted to stay in the Army for at least 20 years.
When his workday at home was over, he relaxed by hunting deer, elk and turkeys, fishing, and riding all-terrain vehicles — basically any activity that could be done outdoors. Usually, his young daughter was by his side.
"He gave his life for his men," Karen Reinke said.

He is survived by his wife and daughter.