Fallen Soldier: Robert E. Colvill, Jr.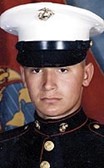 Dates:
Died July 8, 2004
Hometown:
Anderson, Indiana
Branch of Service:
Army
Rank:
Sergeant
Player:
Herman Wibe Sekne
Army Sgt. Robert E. Colvill Jr., 31, of Anderson, Indiana, was assigned to 1st Battalion, 26th Infantry Regiment, 1st Infantry Division, Schweinfurt, Germany. He was killed July 8, 2004, while looking for survivors of an attack in the Iraqi National Guard Headquarters in Baghdad, he was killed when the building came under mortar attack. He was serving under Operation Iraqi Freedom.

Sgt. Colvill graduated from Madison Heights High School in 1991. His sister recalled him wanting to be a part of the military as far back as his freshman year of high school. Shortly after graduation, he joined the Marine Corps where he served until 1999. He spent a few years in civilian life, but according to his stepfather, was not fond of it and re-enlisted - this time, in the Army. His time in the Army included unit assignments at 11C20, B Troop, 2nd Squadron, 14th Cavalry, Ft. Lewis (2001-2003) and 11C20, HHC, 1st Battalion, 26th Infantry, Schweinfurt (2003-2004). His combat and non-combat operations included OIF/Transition of Iraq (2003-2004) and OIF/Iraqi Governance (2004-2005).

"He was a leader. He was always eager to try new challenges," said sister, Melanie L. Smith, 34. "Mom says he was a good kid. He always tried to please everybody."

Colvill left behind his wife and three children.