Fallen Soldier: Guy Barattieri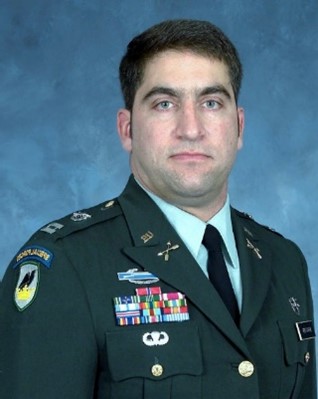 Dates:
Died October 4, 2006
Hometown:
Seattle, WA
Branch of Service:
Army
Rank:
Sergeant Major of the Army
Player:
Emma McMyler
Sergeant Major of the Army Guy R. Barattieri, or "Bear" as he was affectionately known, was a compassionate, strong individual who took immense pride in the protection of his country. A native of Seattle, Washington, SMA Barattieri first served in the Army infantry before becoming a Green Beret and serving with the 1st Special Forces Group (airborne) at Fort Lewis. After leaving active duty, he became a citizen-soldier with the National Guard's Alpha Co., 1st Battalion, 19th Special Forces Group in Buckley and deployed to Iraq several times. On October 4, 2006, while on active duty, SMA Barattieri was killed when a roadside bomb exploded as he was traveling to a power plant near Baghdad.
A 1992 graduate of West Point, SMA Barattieri excelled in his training, assisting the commander in the discipline and welfare of the enlisted men. In addition to his military service, SMA Barattieri was an esteemed member of the Seattle and Milton Police Departments; a job which he excelled at and was selected as the president of his academy class.
When he wasn't protecting overseas or on the home front, SMA Barattieri was spending time with his friends and family. His legacy lives on through his wife and two children who couldn't be prouder of his sacrifice. He was an outstanding man who displayed valor and integrity throughout his life.
SMA Barattieri's wife is a Folds of Honor scholarship recipient.