Fallen Soldier: Evan Fitzgibbon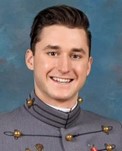 Dates:
Died August 9, 2022
Hometown:
Windemere, Florida
Branch of Service:
Army
Rank:
First Lieutenant
Player:
Marshall Daniel
Army 1st Lt. and Ranger candidate, Evan Fitzgibbon, 23, of Windemere, FL died August 9, 2022, when he and Staff Sergeant George Taber were killed by a falling tree during a storm at Yonah Mountain outside of Dahlonega, GA.

1st LT Fitzgibbon was a West Point Graduate, commissioned in May 2021, but his accolades go back to his time at Foundation Academy. He was a member of the National Honor Society, Student Leadership Institute, and captain of the football team in 2017.
"Fitz always stood out, even with all that talent on the team, said former Head Coach Brad Lord. "He knew he was undersized. Played with high gear and lived life that way."

His family reflected that Evan loved people deeply and lived life fully in his 23 years here on earth. He devoted much of his young life to his military aspirations in serving his country, but he also had many passions, talents, and gifts. He loved football, Civil Air Patrol, hunting, fishing, and music. Evan was a musician at heart and left us with many songs he created that we will forever treasure.

"His verse that he put in the yearbook was Proverbs 21:31," said Patti Cogburn of Foundation Academy. "He would absolutely stand here today and say, 'Don't be sad. I was victorious because God was victorious in my life.'"

He is survived by his parents, older sister, and new fiancée.